What is CityPlace Burlington?
CityPlace Burlington is a new mixed-use facility currently under construction in the heart of downtown Burlington, Vermont. Located on the site of the former Burlington Town Center, we are a LEED Gold® certified, sustainable development bringing housing, office space, retail stores, outdoor public spaces, restaurants, and planned local service businesses such as daycare, a walk-in medical clinic, grocery store and more. CityPlace Burlington will be a place where everyone can live, work, shop, learn, play and eat!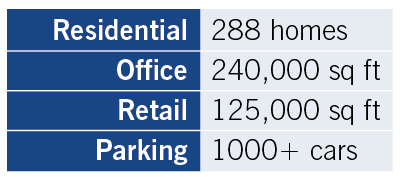 Through a partnership of Devonwood Investors and Brookfield Properties, we are creating an innovative city center to encourage downtown growth and revitalize Burlington. We support Burlington and Vermont businesses and their families, and are actively engaged in our downtown, working with several community organizations to further the development of everyone living, working or visiting in our great city.
If you are looking for new opportunities in the heart of downtown Burlington, we'd love to hear from you. Whether you're a retailer, interested in office space or brand new state-of-the-art apartments, visit our contact page to get in touch.